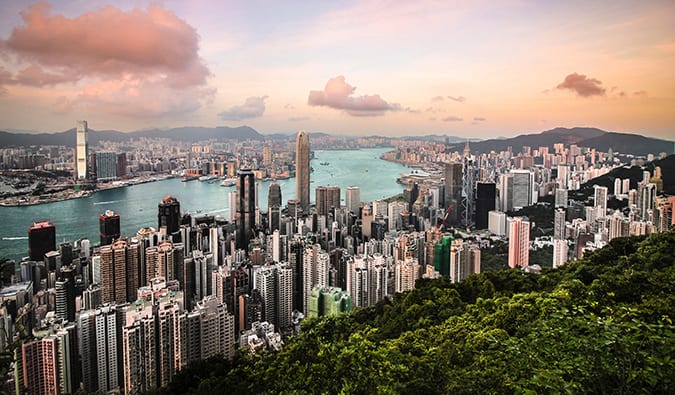 Updated: 1/10/2019 | January 10th, 2019
What's not to love about Hong Kong? The view from Victoria Peak, the bright lights, amazing markets, great shopping, lovely temples, good hiking, delicious food… I could go on and on.
Hong Kong is one of my favorite cities in the world. It has everything you could ever want and more. (Be sure to check out my guide to Hong Kong!)
A city of 7.3 million people, it also has a ton of accommodation options. There are literally thousands of places to stay.
And hundreds of cheap hostels!
Dorm room prices do vary widely, though. They start around 125 HKD/$15 USD per night, but on average, for a decent and clean room, expect to pay closer to 150 HKD/$20 USD (smaller rooms are usually more expensive). Private rooms in hostels start at around 250 HKD/$30 USD per night and go as high as 500 HKD/$65 USD for a double room. Free Wi-Fi is standard at almost all hostels in town, as are shared kitchens.
So, out of all the places to stay in Hong Kong, what are some of the best hostels?
How do you choose from that endless list on Hostelworld?
Having visited enough times to write a guidebook on the city, I can tell you that it's easy to find accommodation in Hong Kong — it's less easy to find awesome accommodation that's cheap, fun, and clean.
So here is my list of the best hostels in Hong Kong that accomplish this goal:
The 11 Best Hostels in Hong Kong
1. Hong Kong Hostel

This is my favorite hostel in Hong Kong! The common area is perfect for meeting other travelers, and there's always a really diverse crowd hanging out here. A majority of the rooms come with a TV, air conditioning, and Wi-Fi. It's one of the cheapest places to stay too! Plus there's free coffee and tea in the mornings.
Beds from 129 HKD/$15 USD.
—-> Click here to book your stay at Hong Kong Hostel!
2. Hop Inn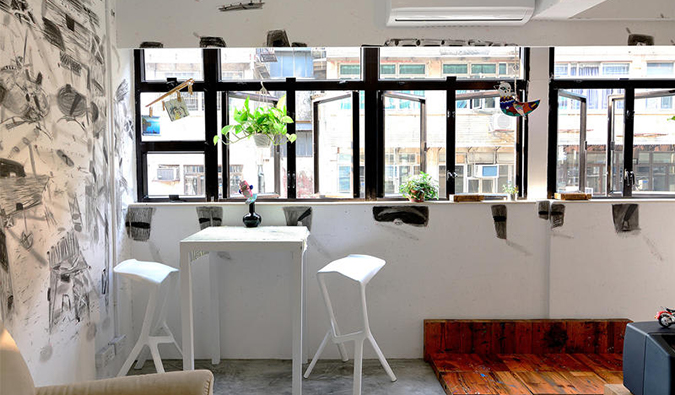 A modern hostel with a unique touch: each room is designed by a different local artist. This kid-friendly accommodation has 24-hour reception, free Wi-Fi, and air conditioning, with towels and linens included. There are two locations in Hong Kong, with the first being the larger. Carnarvon also has a better common area and laundry, as well as an awesome rooftop patio with stunning views. If you stay at one of the locations, you can use the facilities at both!
Hop Inn on Carnarvon – Beds from 150 HKD/$20 USD.
Hop Inn on Mody – Beds from 195 HKD/$25 USD.
—-> Click here to book your stay at Hop Inn on Carnarvon!
—-> Click here to book your stay at Hop Inn on Mody!
3. Urban Pack

Urban Pack is a cozy hostel owned by two Canadians and located on Kowloon Island. It's decorated in a very stylish way, with murals, maps, and funky furniture giving it a lively atmosphere. Catering to budget travelers, it offers free Wi-Fi, Nintendo Wii, board games, books, coffee and tea all day, irons, hairdryers, and a kitchen to cook your food in. It offers a variety of accommodation, from single rooms and small dorms to eight-person dormitories and serviced apartments. It's one of the cheaper hostels in town.
Beds from 150 HKD/$20 USD.
—-> Click here to book your stay at Urban Pack!
4. Yesinn @ Causeway Bay

One of the better-value hostels in the city, this place has a nice-sized common room and a rooftop garden. The beds are big, the rooms are clean, and the linens are free. Each bed comes with a side curtain for privacy, built-in universal adapter sockets, and a bedside lamp. They also have free coffee and tea, free local calls, a massage chair, iPad lending, and Wi-Fi.
Beds from 159 HKD/$21 USD.
—-> Click here to book your stay at Yesinn @ Causeway Bay!
5. Jockey Club Mt. Davis Youth Hostel

This hostel has a spectacular view of Mount Davis and Victoria Harbor. It's also close to the buzzing center of clubs, bars, and restaurants and has free Wi-Fi, backpack-sized lockers with power sockets, a common room equipped with a pool table, board games, a canteen/multipurpose room, a TV room, barbecue sites, and self-serve laundry. There's also a hiking path next to the hostel that will take you straight up to Victoria Road!
Beds from 180 HKD/$23 USD.
—-> Click here to book your stay at Jockey Club Mt. Davis Youth Hostel!
6. Rainbow Lodge HK

What I love is that the staff at this hostel organize tons of activities for guests. There are cooking classes, walking tours, and bar crawls, as well as a well-equipped game room. The hostel is clean and quiet and provides everything you need for a comfortable stay. The beds have curtains for maximum privacy.
Beds from 185 HKD/$24 USD.
—-> Click here to book your stay at Rainbow Lodge HK!
7. Chungking Mansions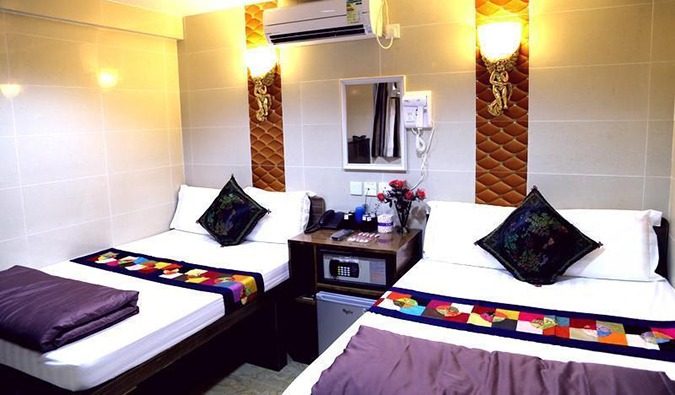 Chungking Mansions offers some of cheapest lodging in Hong Kong. If you're on a tight budget, stay here. The name really refers to a huge shopping and dining complex where you can buy a knock-off version of anything you want. On the top floors, there are a variety of guesthouses that you can choose from. I mean, there are dozens in this building! My favorites are:
New Peking Guest House – Beds from 180 HKD/$23 USD.
Marrigold Hostel – Beds from 199 HKD/$26 USD.
Australian Guesthouse – Beds from 432 HKD/$55 USD.
Super 7 Hostel – Beds from 540 HKD/$70 USD.
8. The Mahjong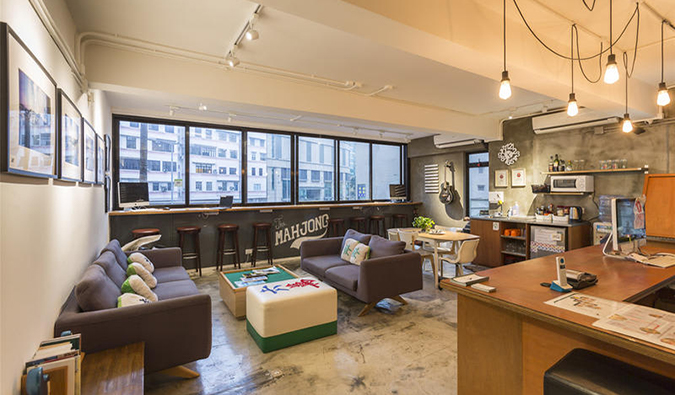 This is a new and clean boutique hostel. The neighborhood is quiet, and you're close to both the mountains and coast here. There's no metro (it's coming soon, though), so you need to learn the bus system. Still, it's just a 15-minute bus ride to downtown. The deluxe beds are comfy, cozy, and spacious, and the dorm beds are pod-style so you can have a good night's rest. There are events daily, including city walks!
Beds from 255 HKD/$33 USD.
—-> Click here to book your stay at The Mahjong!
9. YHA Mei Ho House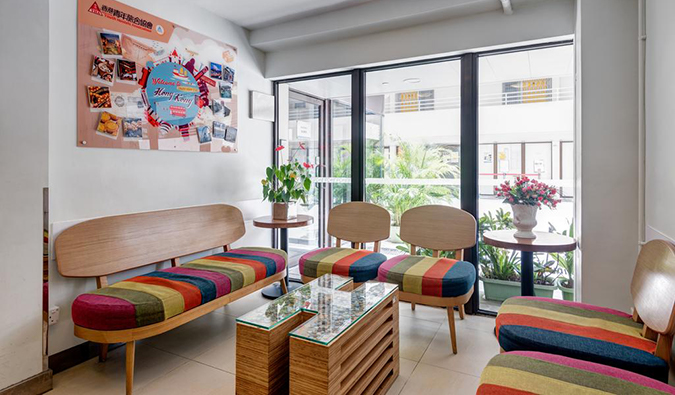 Part of the YHA global chain, this hostel located in Sham Shui Po is wonderful for families and those looking for a quiet place to stay. All of the rooms have en-suite bathrooms, and the hostel has massive common areas, a courtyard, a garden, a guest pantry, a café, a mini-store, and laundry. They serve free breakfast every morning in the café.
Beds from 300 HKD/$38 USD; YHA members can get a reduced rate on rooms.
—-> Click here to book your stay at YHA Mei Ho House!
10. Y-Loft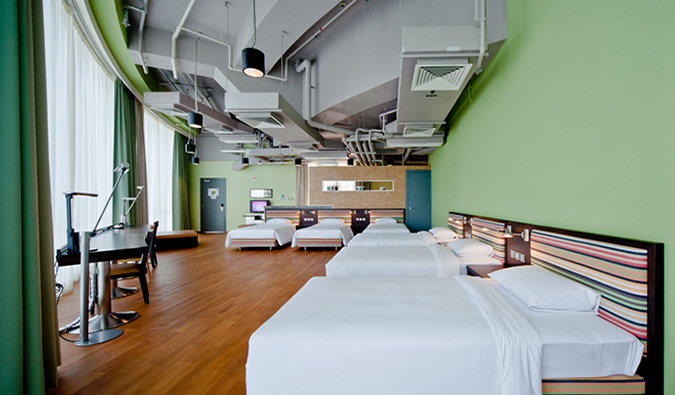 Y-Loft has great amenities: each room has an en-suite shower, there are common areas on each floor, there's a gym and Wi-Fi, linens are included, and it's located close to shopping, delicious places to eat, and a metro station. The dorm rooms have all been designed by local artists, making for some beautifully colorful and interesting spaces. This hostel is huge and has 148 rooms of varying sizes (including handicapped-accessible rooms!). It's kid-friendly too.
Beds from 400 HKD/$51 USD.
—-> Click here to book your stay at Y-Loft!
11. Studio Studio HK

Studio Studio HK offers long-term rentals for visitors, students on internships, travelers on extended tours, or others living in Hong Kong. There are common-access full kitchens (stoves, sinks, refrigerators, cookware, and utensils) and living rooms. This is one of the best places for people staying long-term.
Beds from 6,000 HKD/$770 USD per month.
—-> Click here to book your stay at Studio Studio!
***
There are a lot of amazing hostels in Hong Kong, but to me, these places above are the best. They offer all the things that I think are important when picking a great hostel. If you stay in any of these hostels while in town, you won't go wrong!
If you have any suggestions, leave them in the comments!
Get the In-Depth Budget Guide to Hong Kong!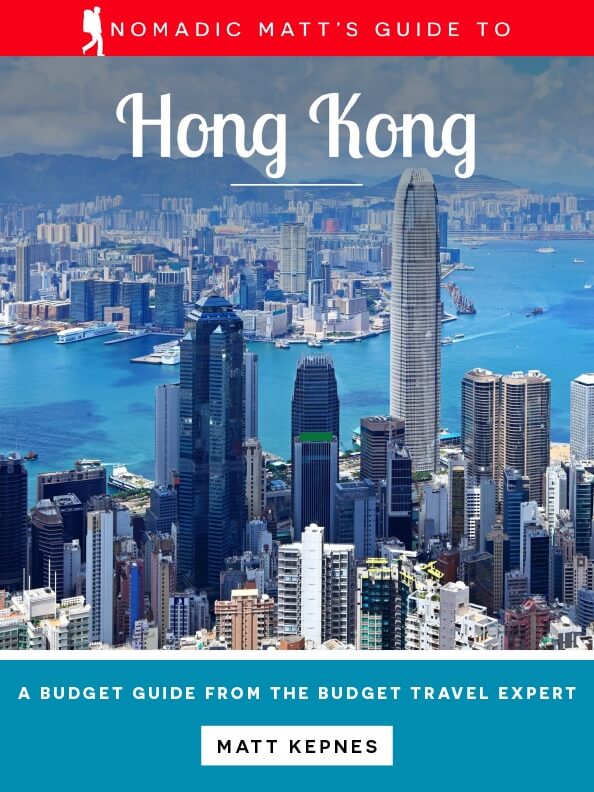 Want to plan the perfect trip to Hong Kong? Check out my comprehensive guide to Hong Kong written for budget travelers like yourself! It cuts out the fluff found in other guides and gets straight to the practical information you need to save money in one of the most beautiful and exciting cities in the world. You'll find suggested itineraries, budgets, tips to save money, on- and off-the-beaten-path things to see and do, and my favorite non-touristy restaurants, markets, and bars, plus much more! Click here to learn more and get started.
Book Your Trip to Hong Kong: Logistical Tips and Tricks
Book Your Flight
Find a cheap flight by using Skyscanner or Momondo. They are my two favorite search engines, because they search websites and airlines around the globe, so you always know no stone is being left unturned.
Book Your Accommodation
You can book your hostel with Hostelworld. If you want to stay somewhere other than a hostel, use Booking.com as it consistently returns the cheapest rates for guesthouses and cheap hotels. I use it all the time. It's my favorite website!
Don't Forget Travel Insurance
Travel insurance will protect you against illness, injury, theft, and cancellations. It's comprehensive protection in case anything goes wrong. I never go on a trip without it, as I've had to use it many times in the past. I've been using World Nomads for ten years. My favorite companies that offer the best service and value are:
World Nomads (for everyone below 70)
Insure My Trip (for those over 70)
Looking for the best companies to save money with?
Check out my resource page for the best companies to use when you travel! I list all the ones I use — and I think they will help you too!
Looking for more information on visiting Hong Kong?
Check out my in-depth destination guide to Hong Kong with more tips on what to see and do, costs, ways to save, and much, much more!
Photo credits: 3, 4, 5, 6, 7, 8, 9, 10, 11, 12, 13